Latest News
The con is less than two days away and I've got one batch of new items to share. First off is a one-of-a-kind set of sketch cards based on the Tony-Award winning musical Hamilton. I couldn't "throw away my shot" at drawing Thomas Jefferson! I'll have literally only one set of these available at the show. If interested, hit me up before or during the show!
Next is the latest round of new 4X6 prints, primarily featuring past and present animated starlets: the truly outrageous Jem from Jem and the Holograms, and Marceline the Vampire Queen from Adventure Time!
Fictional 80's Pop Icon Jem!
And lastly in this series, is the one, the only…um…actually I can'r remember his name. Little yellow guy, doesn't say much…like really, ridiculously popular right now for some reason, I dunno.
Why is Pikachu wearing a hat and carrying a magnifying glass? Because he's arguably the most popular Pokemon in history so he does whatever he wants! Oh and also he's a detective now or something?  Anyway, these prints and more will be available all weekend long, or as long as supplies last.  And as always I am available for commissions. Be sure to check here again tomorrow as I've got one more surprise print to unveil…
Hey err'body!  Shameless promotion time!
As many of you are aware, Kansas City Comic Con is nearly a week away and I'll once again be attending (booth 1326, come say hi). I've added some new material to my inventory which I'll have available for sale at the show. In addition I am available for commissions in a wide variety of media, including sketch cards, bookmarks, and 8×11 size sketches. I'll also have a wide variety of sketch covers on-hand, including new series like Future Quest, The Unbelievable Gwenpool, and Doctor Strange.  And speaking of Gwen, see below for the first new print in my arsenal: the amazing Spider-Gwen!
Spider-Gwen will also be joined by everybody's favorite psychopath Harley Quinn, in her popular "Bombshell" outfit.  Harley's about to be a movie star and regardless of how the movie turns out, her popularity will not be diminishing any time soon. Especially if the cosplayers have anything to say about it!
Stay tuned to this space for more previews…🙂
Hey all!  I'll be posting the next installment of my Storytelling series later this week but for now, I wanted to take a moment to showcase some of the new art I'll have available at Kansas City Comic Con.  The show's only a couple weeks away and I could not be more excited!
For starters, I'll have a one-of-a-kind set of My Little Pony sketch cards, priced at only $5 per card.  In addition, I'll also have a new MLP print depicting Ponified versions of two of my favorite DC villains Harley Quinn and Poison Ivy, all of which can be seen below.
Time to get back to work but I hope you enjoy what you see and that you check this space again later for more previews. In the meantime you can head here for details on the show itself.
The full set of cards in all its glory.
Harley & Ivy: Friendship is Magic
So there I was, sitting cross-legged on the floor in my basement, toys scattered around me and a hundred different ideas floating around in my head.  Being an only child, I was rather spoiled so there was no shortage of action figures at my disposal, everything from He-Man and the Masters of the Universe to Teenage Mutant Ninja Turtles to LEGOS of all kinds. By far my favorite characters to play with, however, were from a series of little-known films entitled Star Wars.
At that point all the movies had come and gone and new action figures were difficult to find in stores so my mom would take me to garage sales to locate used toys, no longer desired by owners.  And so my collection grew.  Main characters like Luke and Chewbacca remained elusive so I made do with various other characters like Greedo or 4-Lom or even Squid-Head (and yes there was a character named Squid-Head. His face looked like uncooked calamari and he wore a cape, as you do). I loved devising rich back stories and narratives to develop them from mere background characters to fully-formed heroes and villains.  One such hero was the infamous bounty hunter Boba Fett.
For those unfamiliar Boba Fett was the bounty hunter  who delivered Han Solo to Jabba the Hutt in The Empire Strikes Back, a small but pivotal role that would lead to one of the most popular characters in the Star Wars expanded universe.  Very little was known about his origins at the time or even what he looked like under that menacing helmet. But none of that mattered to me.  He could be anything I wanted him to be: charismatic villain, dark anti-hero, or just a straight up bad-ass who'd kill for money. Or just for fun.
In the years since, Fett's popularity waned.  Whereas comics and video games developed his character, resurrecting him from his apparent demise in Return of the Jedi and making him a formidable enemy to the New Republic, most fans saw him simply as an overrated villain who was taken out by a blind guy with a stick (it's pretty much true, Google it). However to me, the character was always more than that.  He was a conduit by which I could tell my own stories that took place in a galaxy far, far away.  I didn't have to worry about continuity or that he was a clone, or that he had gotten eaten by a giant sand worm. I was creating my own adventures for him to take part in, adventures across all genres: action, thrillers, even comedies.
I remember one particularly ridiculous "heist" story in which Fett had to team up with a few other bounty hunters to stop a group of droids from dismantling the Empires's new Death Star, which rested atop a giant space tree.  Before you ask, yes this was around Christmas time and the "Death Star" was indeed the star on top of our Christmas tree.  I used everything at my disposal to physically tell the stories in my head. I had no qualms about letting my imagination run wild.
And that's kinda my whole point with this.  Fett's not just cool because the movies made him out to be (they really didn't) and it certainly isn't because other people said he was (nobody I was friends with as a child thought this) but because I made him out to be that way.  I imagined he was the greatest bounty hunter in the galaxy and came up with ideas and stories to justify that title.  The characters we write aren't interchagable nobodies with different names and appearances; with the right amount of thought and dedication, they can be fully-formed people whose stories are written to serve them, not the other way around.  It doesn't matter how or why a character is conceived; under the right circumstances, any character can thrive and become more than what they were intended to be.
There are no bad characters, just ones who haven't been written to their potential. But more on that later…
In my lifetime I've taken many classes on writing.  I took every creative writing class Washburn University offered, enrolled in Playwriting (twice) and even took a couple directing classes so I could experience taking another writer's ideas and giving them form.  If I could bring to life something from Tom Stoppard or even Shakespeare, I could use that experience and knowledge to flesh out my own characters and stories.  These classes weren't just for fun (though they were the most fun I had in college) but were genuinely educational. I learned so much about writing in those classes and not just technical skills and structure. I learned that it wasn't just a class or a hobby, it was a passion.
Now I've always told stories.  While most kids might've been content bashing their action figures together and flinging them across the room, that was never my style.  I plotted out nearly every action, every reaction, every voice even, before picking up one single toy.  Skeleton wasn't just a bad guy because he was on tv, I gave him true motivation.  He was angry because He-Man had stolen his sword, slapped his panther on the bottom and dropped the sword into a swamp.  And thus Skeletor recruited villains from all across Eternia to crash Orko's birthday party and destroy the cake.  Needless to say the party went south and everybody died. Except Orko. I just didn't have the heart to do it.
Not all my stories were quite so dark.  Whenever my imagination would venture into a galaxy far, far away, I was inspired by the comedies I had grown up with, most notably Monty Python and the films of Mel Brooks.  My version of Star Wars was much more like Spaceballs with wisecracking stormtroopers, inept bounty hunters, and an extremely flatuelent Jabba the Hutt.  I even at one point gave R2-D2 a voicechip so I wouldn't have to replicate his beeps and bloops. He was quite vulgar and had an inexplicable Brooklyn accent. He also kinda had the hots for Princess Leia for some reason?
I'm not saying my plots were Pulitzer-worthy but they were meticulously thought out. Plus, I was like, six. Give me a break.
Action figures weren't just fun, increasingly expensive pieces of plastic that I begged my parents to buy me. Each one was a storytelling device, a new character to add to an existing narrative in my own head.  I could give them any voice I wanted, any personality; they could be brilliant tacticians, loyal lackeys, or imbecilic cannon fodder.  Sometimes all three if the situation called for it.  And many situations I came up with required cannon fodder.  Lots and lots of cannon fodder.
Toys gave me an opportunity to tell stories in a way I couldn't express in words, at least not the written word. Spelling was a strong suit, but formulating my thoughts into those correctly-spelled words did not come as easily. I've always been a visual, hands-on type of a learner and being able to set up action figures and vehicles and playsets in a way that matched what I saw in my head helped me tremendously when developing stories.  I learned a lot about developing characters as well and molding them into something more than the one seen on-screen in movies or cartoons.
One such character I was quite fond of was an infamous bounty hunter called Boba Fett…
To be continued.
Feels like just yesterday I was gearing up for Planet Comicon and now here I am stressing out and losing sleep over yet another show!  This weekend, I'll be heading up to Hutchison (aka Smallville), Kansas for the third annual Smallville ComicCon, hosted at the Kansas State Fair.  It'll be my first year attending and I'm once again looking forward to seeing some familiar faces and meeting new ones.  I'm already underway getting some new materials ready, so Imma cut this blog short to get back to it but if you're planning to attend the show, don't forget to stop at Booth 83 and say hi!
See below for a sneak peek at one of the new prints I'll be unveiling this weekend:
Hey remember at the start of the year when I said I'd be writing more?
Yeah, me neither.
So here we are.  In the past week, I've taken two finals, worked several days, and attended Planet Comicon for the fourth year in a row as a creator.  It was my third show of the year, following the Air Capitol Mini-Con in Wichita and Free Comic Book Day at Gatekeeper Hobbies.  Three shows this year, a year in which I averaged working fifty to sixty hours a week (sometimes more), took four classes, and barely slept.  Fortunately for me (and my health) my last full semester is over, work has slowed back down, and I can finally concentrate on what I love: sleeping and binge-watching Netflix.  Oh and beer.
Had ya going there for a sec, right? I mean sleep is great, and I do enjoy a cold beer while catching up on the latest season of My Little Pony but for me, creating something new, whether as a drawing or a narrative is what I dig the most.  I can look back on the last few months and see little nooks in between productivity and errands where time could have been carved out to do either of those things and I simply have to accept that those opportunities are gone.  I can't lament them or at least I shouldn't;  I just need to look forward and focus on the opportunities that lie before me.
This past weekend was cathartic for me, not just because it in part renewed my passion for drawing, a passion that I felt was wavering with so many other daunting tasks demanding attention, but also because of all the creativity around me.  Seeing old friends debuting new projects, meeting new friends, and colleagues, and fans and just seeing how they all interacted with each other, appreciated each other's quirks and passions without judgment and just taking in the grand arena of fandom that surrounded us all…
…it was freakin' awesome.
Every con is someone's first con, whether you're a fan, a writer, a colorist, or a podcast…person…podcaster?  Podcastinator?  Is that a thing? Anyway, it's totally true and for me, Planet was one of my first cons as a fan and my very first as an exhibitor and each year has been more successful than the last. I've got a couple more lined up this summer (more on those in the weeks to come) but for now it's time to rest and regroup.  I've got a lot of new ideas forming and I'm not wasting another second letting them lie dormant.
Time to get creative!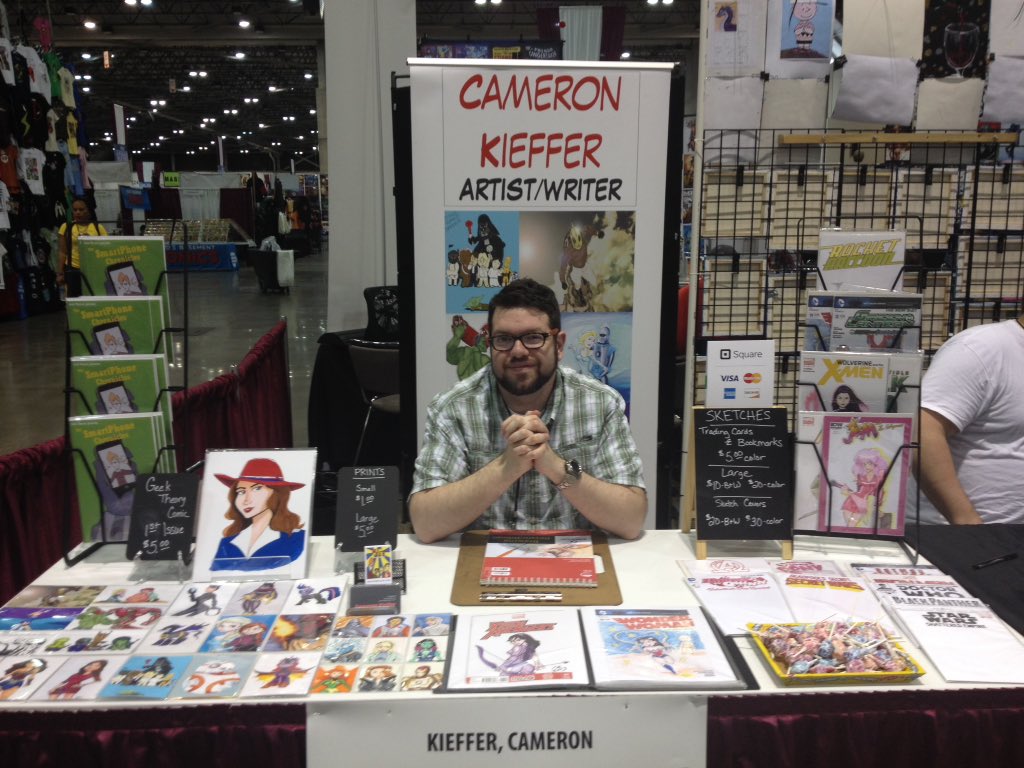 Me at my table, looking particularly devious.  And probably also hungry.
2015 is drawing to a close. It's hard to believe how quickly this year has gone. It feels like just days ago I was obsessively watching the very first teaser for Star Wars: The Force Awakens and here it is almost two weeks from when I saw the freaking movie (it was awesome, by the way).
I've been away for some time, with very little new art or content to share, and for the two of you who follow my blog and/or comic strip, I apologize.  Working fifty-odd hours a week, and going to school is an old excuse I've been using for a couple years now but it really does wear down the artistic endeavors.  Too many nights I come home and a late dinner and a couple episodes of Teen Titans GO! is all I have time for before plopping down in the bed for a well-earned (but entirely too short) night of sleep.
But enough of my complaining.  A new year is upon us and I've already got two conventions lined up for which I must begin preparing.  A new year of "Geek Theory" will be starting up soon as well and I've got a list of commissions to work on (a heartfelt apology to my very patient customers, aka my family).  Below, you'll see the most recent fruit of my labors: a "Jem and the Holograms" sketch cover lovingly drawn for my equally hard-working wife for Christmas.
This cover is outrageous. Truly, truly, truly outrageous.
Signing off for now but I hope you all have a safe, and awesome New Year. Try not to blow yourselves up but if you do, make sure it's legendary. Peace out, homies!
-Cam
One more entry til the big day which means one more shameless plug.  I'll be at booth 713 Friday through Sunday and still have plenty of spots open for commissions.  In addition to the prints I've posted so far, I'll also have an exclusive print of Lord of the Rings' Samwise Gamgee, as played by Comic Con guest Sean Astin (see below), which would make a great one-of-a-kind autograph piece (hint hint, wink wink)!  I've also just completed new prints based on fan-favorites Agent Carter, Rocket Racoon and Groot (also see below).  Hope to see you there!
Everyone's favorite Hobbit…besides Bilbo
Everyone's favorite SHIELD agent…sorta
Everyone's favorite galactic guardians, unless you're a Drax fan in which case, sorry.