Hey remember at the start of the year when I said I'd be writing more?
Yeah, me neither.
So here we are.  In the past week, I've taken two finals, worked several days, and attended Planet Comicon for the fourth year in a row as a creator.  It was my third show of the year, following the Air Capitol Mini-Con in Wichita and Free Comic Book Day at Gatekeeper Hobbies.  Three shows this year, a year in which I averaged working fifty to sixty hours a week (sometimes more), took four classes, and barely slept.  Fortunately for me (and my health) my last full semester is over, work has slowed back down, and I can finally concentrate on what I love: sleeping and binge-watching Netflix.  Oh and beer.
Had ya going there for a sec, right? I mean sleep is great, and I do enjoy a cold beer while catching up on the latest season of My Little Pony but for me, creating something new, whether as a drawing or a narrative is what I dig the most.  I can look back on the last few months and see little nooks in between productivity and errands where time could have been carved out to do either of those things and I simply have to accept that those opportunities are gone.  I can't lament them or at least I shouldn't;  I just need to look forward and focus on the opportunities that lie before me.
This past weekend was cathartic for me, not just because it in part renewed my passion for drawing, a passion that I felt was wavering with so many other daunting tasks demanding attention, but also because of all the creativity around me.  Seeing old friends debuting new projects, meeting new friends, and colleagues, and fans and just seeing how they all interacted with each other, appreciated each other's quirks and passions without judgment and just taking in the grand arena of fandom that surrounded us all…
…it was freakin' awesome.
Every con is someone's first con, whether you're a fan, a writer, a colorist, or a podcast…person…podcaster?  Podcastinator?  Is that a thing? Anyway, it's totally true and for me, Planet was one of my first cons as a fan and my very first as an exhibitor and each year has been more successful than the last. I've got a couple more lined up this summer (more on those in the weeks to come) but for now it's time to rest and regroup.  I've got a lot of new ideas forming and I'm not wasting another second letting them lie dormant.
Time to get creative!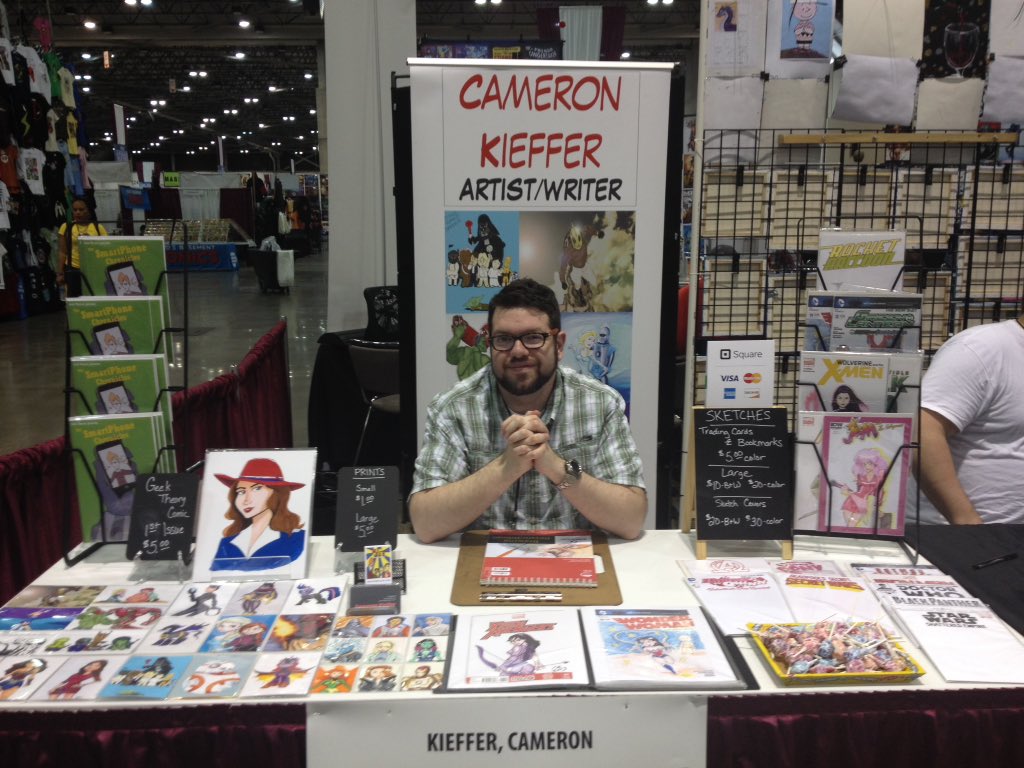 Me at my table, looking particularly devious.  And probably also hungry.